Digital Calibrators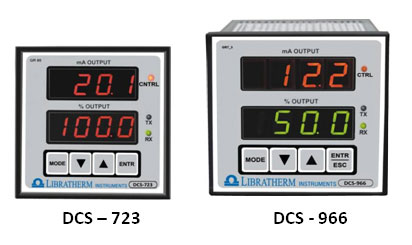 Model Wise Description :
Model
Product Description
Size (mm.)
LC-02
Millivolt Calibrator (source/measure)
Range: (0.00 to 199.99) mV & (0 to 1999) mV.
250 x 255 x 105
LC-03
Resistor Calibrator for PT-100 Input in the range of -50 to 400oC with 12 fixed range and one variable.
200 x 120 x 75
LC-05
Millivolt and Milliamp Calibrator (source/measure)
Range: (0.00 to 199.99) mV, (0.0 to 60.0) mV
(0.00 to 30.00) mA.
250 x 255 x 105
LC-06
mV/0-10V/(4-20)mA DC Source
96 x 96 x 120
Description :

Libratherm offers 4 & ½ Digit mV /mA Calibrators model LC-02 and LC-05 which are designed mainly for calibrating temperature and process instruments. Both the models can source and measure the current and voltage signals and hence useful for measuring the sensor outputs as well as for sourcing the signal to the indicator/controller. Model LC-03 is a pt-100 source calibrator for sourcing the resistance corresponding to Pt-100 values with accuracy of 0.01Ohms. 12 fixed ranges are equally divided to cover the temperature range from -100.0oC to + 400.0oC, variable potentiometer is also provided for generating variable resistance values.
Model LC-06V and LC-06C are only voltage and current source meter with 4 and ½ digit display and source range of 0 to 10V or 0 to 60mV or 0 to 25 mA.
mV / V Calibrator
mV / mA Calibrator
Fixed Resistance RTD Calibrator
mV/V/mA Source meter
Model
LC-02
LC-05
LC-03
LC-06V and LC-06C
Display
4 & ½ Digit 0.5" Red LED
4 & ½ Digit 0.5" Red LED
N.A.
4 & ½ Digit 0.5" Red LED
Settings
Using Front Panel Potentiometers & Selector Switch
Using Front Panel Potentiometers & Selector Switch
Using 12 way selector switch (Fixed Resistor) & Potentiometer for variable resistance
Using Front Panel Potentiometer
Measure Range
0.00 to +/- 199.99 mV
0.00 to +/- 199.99 mV
N.A.
N.A.
0 to 2000 mV
0.00 to 30.00 mA
N.A.
Source Range
0.00 to 60.00 mV (RLmin = 100K ohm)
0.00 to 60.00 mV (RLmin = 100K ohm)
-100 to 400 oC in 12 steps
(for 1 oC accuracy)
0.00 to 60.00mV
0.00 to 10.00V
(RLmin = 100K ohm)
0 to 2000 mV
(RLmin = 100K ohm)
0.00 to 30.00 mA (RLmax = 400 Ohms)
0.00 to 25.00 mA
(RLmax = 400 Ohms)
Accuracy
Better than +/-0.2%
Better than +/-0.2%
+/-0.05 Ohm
Better than +/-0.2%
Supply Voltage
230 VAC +/-10%, 50/60 Hz
230 VAC +/-10%, 50/60 Hz
Not required
230 VAC +/-10%, 50/60 Hz
Size (mm.)
250 x 255 x 105
250 x 255 x 105
200 x 120 x 75
96 x 96 x 120
Mounting
Table Top
Table Top
Table Top
Table Top