Three Phase AC Voltage Scanner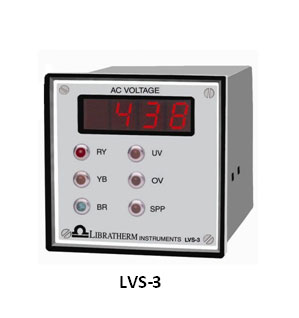 Model Wise Description :
| | | |
| --- | --- | --- |
| Model | Product Description | Size (mm.) |
| LVS-3 | Three phase AC voltage scanner | 96 x 96 x 120 |
Description :

Libratherm Digital Voltage scanner model LVS-3 protects your 3-phase Load against Phase failure and Phase Reversal. It is designed to monitor the incoming 3-phase AC supply voltage.
LVS-3 displays the AC voltage across 2 phases (like RY, YB & BR) sequentially at regular interval of time. LVS-3 also monitors one of the phase failures and phase reversal condition, under voltage and over voltage condition compared to the factory set values. The respective status is indicated on the front panel LEDs. In case of any of the abnormalities in the supply voltage a relay output is provided to indicate the false conditions. Under normal operation the relay will remain energized and under faulty condition the relay de-energizes. The relay contacts (rated for 5A @ 230VAC) can be used to trip the external load or contactor operating on 3-phase AC supply.
LVS-3 is a useful instrument to protect the 3 phase loads like AC motors and it is widely used by the electrical panel builders. LVS-3 is rugged, reliable and field proven and is available in 1/4 DIN size of (96 x 96 x 120) mm.

Features :
• Measure and Monitor incoming 3-phase supply voltage.
• Scanning display shows voltages across RY, YB and BR phases.
• Relay output with front panel indication in case of phase failure and phase reversal (abnormal condition).
•Under voltage and Over voltage indication (limits are settable).
• 1/4 DIN Size
• Operates on 3 phase RYB+N supply
Applications :
Protection of 3 phase loads like motors, pumps, transformers etc against failure and reversal of any one of the incoming phase.
Suitable to use on Electrical control panels.
Technical specifications :
Supply
415VAC (RYB + Neutral + E).
Display
3 & ½ Digit 0.5" Red 7-segment LED.
Scan Rate
10 sec. Fixed – Indicates the voltage between the 2 phases.
Output
Relay changeover contacts (5A @ 230VAC). Relay remains ON under Normal condition of 3-phase supply.
Relay Trips
In case of a) Absence of one of the three phases or neutral.
b) Phase reversal.
c) Under voltage.
d) Over voltage.
Relay Operation
Normally energized in case of normal condition and de-energized if any abnormality arises.
Under voltage cut-off limit
350VAC +/- 5VAC (on site adjustable).
Over voltage cut-off limit
450VAC +/- 5VAC (on sit adjustable).
LED Indications
For RY voltage, YB voltage, BR voltage, Under voltage (UV), Over voltage (OV) and Single phasing (SSP).
Size
96 x 96 x 120 mm.
Panel Cutout
92 x 92 mm +/- 0.5 mm.
Terminations
4 – for RYB and N.
3 – for Relay contacts NO-C-NC.
Enclosure
ABS Plastic with polycarbonate front.